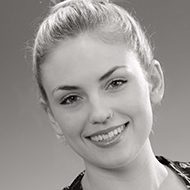 PhD Candidates and Researchers
Daniela Wittmann has studied Clothing Technology and Textile Engineering at the University of Applied Science in Berlin. Her main focus is on technical textiles, technical textile products and smart materials. Especially the world of nanotechnology and electrospun nanofiber fascinates her. 
She started her internship at the Design Research Lab for 5 months and developed together with the team a "Smart Maintenance Jacket". After the internship she startet working as a student assistant in the research cluster "Connected Textiles", where she is now supporting different projects with her textile realization and her processing and material skills.