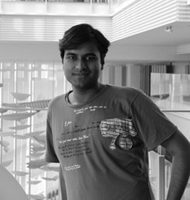 Sanket was born in 1985 in Panipat, India. Since 2007 he is studying towards a Post Graduate Diploma in Information and Digital Design at the National Institute of Design, India. During his course he has completed various projects for rural population and unconventional users of information technology, as well as designing user interfaces for web applications. He believes in taking technology where it is most required with the help of design skills.
He joined the Design Research Lab in May 2009, working on the project "Mobile Health," where he is working towards designing for better health services in rural India. His responsibilities cover the scope of the project, right from the field-research stage to designing and developing concepts for better health services. His work will be concluded by a comprehensive report.
Before joining the design course, he completed his Bachelor's in Engineering in Information Technology.